At Woodland our goal is to constantly reach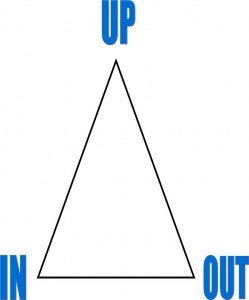 IN

to support, love and encourage each other and
OUT

to minister to a world in need of experiencing the Love of Christ.
Woodland Baptist Church exists to bring glory to God by making a positive difference in the lives of people! Whether you are curious to learn more about God, or are looking for a new place to call your church home, Woodland has a place for you!
We would like to invite you to come join us for one of our services. The atmosphere is relaxed and the messages are relevant to your daily life.
SUNDAY MORNINGS
WORSHIP SERVICE
9:30 AM
Dress Code: You will find a variety of dress attire. Our dress code ranges from "Sunday best" to causal jeans or shorts. Please come in whatever makes you feel comfortable.
Children in Worship: We welcome all children to join us in worship.
We also provide age appropriate options, you are welcomed to use.
Child Care is offered for babies to 5 year olds
Babies—Toddlers in diapers. (Location: Upstairs nursery)
Toddlers' Potty Trained– 5 years (Location: Downstairs Extended Care Room)
A "Crying Room" is available in the back of the sanctuary, feel free to use it as needed.
If you have any questions, please see a greeter.
SUNDAY MORNING SMALL GROUPS
10:45 AM
Groups for every age meet each week at 10:45am following worship!
SMALL GROUPS

-The Men's Prayer Breakfast Group- meets each Friday at 7:00am for breakfast and Bible study.

-The Lowesville Women's Small Group- meets each Wednesday at 6:00pm for a Bible study at the home of Susie Shimp.
-The Gladstone Women's Small Group- meets each Thursday at 6:00pm for a Bible study at the home of Heather Page.
Children
Woodland Tykes (Preschoolers)
Explorers (Kindergarten-2nd grade)
Voyagers (3rd grade- 5th grade)
These groups meet at various times for special occasions such as Easter egg hunts, bowling, spa days, and scavenger hunts!
Youth
Our youth (grades 6-12) meet during the school year, and w
e have special events throughout the year!
Pastor: Greg McCormick
Greg joined Woodland Baptist Church in June 2010 as Senior Pastor. Born in Halifax County, Virginia, he accepted full time call to ministry in 1993. Greg served as youth pastor at Jefferson Park Baptist Church in Charlottesville as well as Webber Memorial Baptist Church in Richmond, Virginia. Prior to coming to Woodland Greg was Associate Pastor at Spring Hill Baptist Church in Ruckersville, Virginia. Greg has a Bachelor's Degree from Bridgewater College, a Master in Sociology from UVA and a Master of Divinity from Baptist Theological Seminary at Richmond. Greg, Kristie and their boys Caleb and Noah love being outdoors. Some of their favorite activities include hiking, camping and enjoying God's creation together.
Contact information:
4434 Thomas Nelson Highway
Arrington, VA 22922
Ph. 434.263.7744
e-mail: greg@woodlandchurch.org