Enjoy the Journey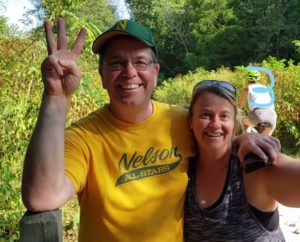 "Whoever can be trusted with very little can also be trusted with much…" Luke 16:10
Kristie and I participated in the Woodland Amazing Race on the trail last week. It was an absolute blast and there were so many learning and growing opportunities. As you can see from the picture, we got 3rd place. Being competitive, I can promise you we both wanted to win (Congrats to Mandy and Eric). But this was a prime example of how the journey was so much more enlightening than the destination. Kristie and I were reminded of things we appreciated about each other (willingness to share the load). We battled through our weaknesses (Greg's inability to drive a nail). And even learned some new things along the way (Kristie pays MUCH better attention to detail).
Too often we plow through life focusing primarily on getting from one destination to another (the end of a workday, an upcoming holiday, or finishing up a sports season). Working towards goals is a good thing but being focused only on the destination might mean you miss… -a beautiful sunset on the way home,-an opportunity to bring cheer to a lonely soul during the holidays, or -celebrating a little success that impacts a child in a great way.
Don't miss the beauty of life God has placed before you. Enjoy the journey!
Think about it… • Reflect on your day. Do you allow time to appreciate the small things God provides? • Does you miss opportunities God gives you to make a difference in the world around you because you are too focused on completing the task or getting where you are going? • How does the scripture from Luke 16:10 relate to today's devotional thought?
Surrendering to Christ, Greg