The Great Adventure Race – An Encouraging Experience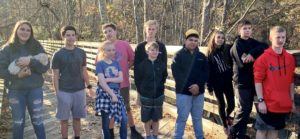 So encourage each other and build each other up. 1 Thessalonians 5:11
Students paired into 5 teams and competed in the Woodland Youth Great Adventure Race this week. There were different tasks to be completed as part of the race. Most every person had at least one situation where their partner was more skilled than they were. But partners had to complete the tasks together. It was wonderful to see students encourage and build each other up. Caleb McCormick and Jerry Saunders finished the race first. But they were all winners!
These young people provide us with an example of what it means to be the Church…
• Each of us has our own gifts we are to use as we help each other
• We should always encourage one another
• Building up another person who is struggling pleases God, changes lives and grows the Kingdom
Think about it…
• One student said the most difficult task was also the one he ended up enjoying the most. What is the spiritual application for such an experience? Do you think encouragement may have played a role?
• I said everyone was a winner. Think of 3 ways you would agree these students probably would be considered winners. REALLY! Pause and think of those 3 things.
• Are there times you can have a "winning experience" in life without necessarily being 1st? Perhaps God is leading you to help someone have a "winning life experience" today.
• Read 1 Corinthians 12 to see what Paul says about being part of the Body of Christ. Then ask God how He wants you to act upon this Scripture.
Surrendering to Christ,
Greg