Feeling Worthless?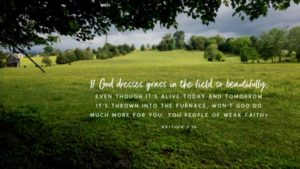 Today's verse, coupled with this view along my trail walk, is one of God's gifts to me this week. I was literally drawn off the trail to take a closer look. I stood, absorbing the beauty, realizing I could not possibly take it all in. This verse tells us that we are much more important and so much more of a priority to God than the grass of the field which will soon wither away.
Do you have days when you feel anything but important, productive or valued? God has a way of reminding us that we are His. You are created to be a son/daughter of the King! In the words of the Psalmist David, "You are fearfully and wonderfully made." When we choose to believe we are less than worthy, we are not only selling ourselves short, we are also denying the creation power invested in us. God gifted you above all other creation and has a plan for your future filled with hope and prosperity.
Think about it… • We all have those days when we feel beat down, burned out and useless. On these days, allow your faith to reconnect you to the God who admires you above any other part of His creation. • Why do we choose to believe other people, situations or experiences that attempt to convince us we are less than what God tells us we are? Who or what false voices are you listening today? • The hope and prosperity God offers is much more fulfilling than what the world has to offer. • Be open to hearing God remind you how beautiful, wonderful and valuable you are today. Be the person God created you to be.
Surrendering to Christ Greg